About the Practice
> Electronic Medical Records (EMR)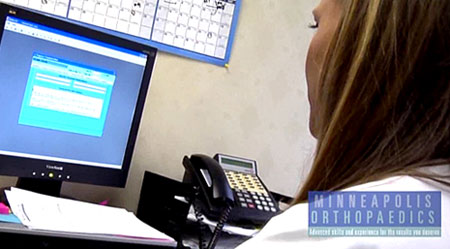 Electronic Medical Records (EMR)
Paper based patient records are still the most common form of maintaining patient information in the majority of doctor's offices and hospitals in the United States. While relatively inexpensive, they require a great deal of space to store them. Medical offices are required to keep all patient's files for 7 years, which leads to volumes of charts and inefficiency in maintaining and retrieving them.
A more modern system employs digital format in the form of electronic medical records (EMR). EMR allows patients records to be viewed from anywhere and can be sent to various providers within minutes. This is a much more accurate and efficient way to store and retrieve charts and improves overall patient care. In a recent study it is estimated that electronic medical records improve overall efficiency in medical offices by 6% per year.
At Minneapolis Orthopaedics, we employ the most advanced state of the art Electronic Medical Record system available. We combine this with a specialized orthopedic radiographic imaging system to provide a comprehensive and modern digital experience. We are able to view and transmit records from anywhere and can customize treatments, implants, and surgical templates for every patient. Our EMR data management system allows us to deliver a unique, technologically advanced, and customized solution for every patient.