About the Practice
> Patient Testimonials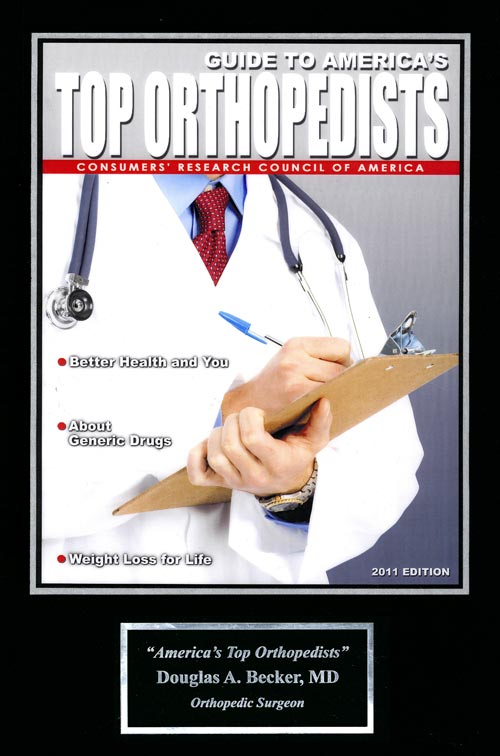 After a recent bout of "wrestling" with the realities of a body that is slightly more aged than the spirit that occupies it, I found myself in need of x-rays and an orthopedist. A friend recommended I try Minneapolis Orthopedics. Since I am receptive to suggestion and have no real knowledge of ankles or the people that fix them, it wasn't long before I was teetering precariously in front of the reception desk at Dr. Becker's clinic, with all the hope in the world that I would soon enough be returned to fighting form.

From the moment I entered the clinic I was treated exceptionally well. No one offered me a back massage or glass of Brandy, but I was given the requisite allotment of time to fill out my paperwork and then treated to an expertly captured x-ray. It is really what I had expected. What perhaps wasn't expected was the quality of the staff that helped me through this portion of my ordeal. The x-ray technician, on top of being a woman for whom no measure of beauty was left to chance at her creation, had the softest hands and the most caring demeanor of any healer I've ever met. Unless the x-ray itself possessed some restorative power, an idea which met it's end years ago, I can only assume it was her gentle touch that marked the true commencement of the healing process.

From there I was led to a room to wait, for mere moments mind you, for my consultation with Dr. Becker. Let me tell you in all earnestness, no finer an Orthopedic surgeon will you find in the state of Minnesota. His surgical skill is matched only by his true desire to address your concerns, assess your needs and help you recover. I don't imagine everyone has the same requirements in relation to their orthopedic surgeon, but for this man Dr. Becker exceeded them all. He and his staff are a sure bet if you decide to try your kids new bike jump to make sure it's "safe", or to have one more adult beverage before taking your nephews spot into the volleyball game at the family reunion, or that the Christmas lights need to be off the roof before the snow melts away.

In summary, life hurts sometimes and you may need to find someone to help put you back together. If you've read this far, you needn't waste your time looking further- Dr. Becker is as good as it gets and he's obviously gone out of his way to hire well, which makes the whole package just right.
Sam
Minneapolis, MN

---
I can't say enough good things about Minneapolis Orthopaedics!! Dr. Becker did a miraculous job repairing my left knee, after a bad fall. He explained everything in great detail & along with his wonderful staff answered every question that I had. I am happy to say that I am walking around better now then before the fall. Highly recommended!! This place is at least a 10 star !!
Eric
Hopkins, MN

---
Amazing experience. As an ex-athlete I'm very familiar with the orthopedic process. Dr. Becker and his staff are the best I've ever been around.

He repaired my torn achilles and had me up and running quickly. The service was phenomenal and his staff was there for me at every turn and concern.
Mark
Wayzata, MN

---
I had a pair of surgeries at Minneapolis Orthopaedics in the past year. Dr. Becker did a great job and I was back to my normal routines faster than previous surgeries. The staff was very accomodating and recognized me at my follow up appointments. The physical therapists were great and helped me immensely with my recovery. Highly recommended.
Ian

---
Dr Becker is the best in town ! He does great work !
Lore

---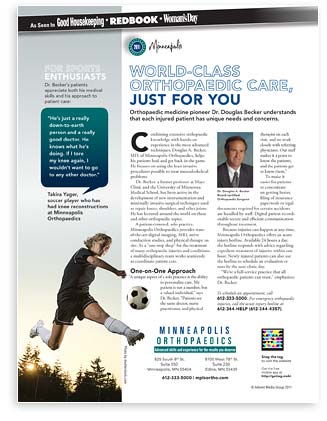 World-Class Orthopaedic Care, Just for You
Orthopaedic medicine pioneer Dr. Douglas Becker understands that each injured patient has unique needs and concerns.

"He's just a really down-to-earth person and a really good doctor. He knows what he's doing. If I tore my knee again, I wouldn't want to go to any other doctor."

- Takira Yager, soccer player who has had knee reconstructions at Minneapolis Orthopaedics
Combining extensive orthopaedic knowledge with hands-on experience in the most advanced techniques, Douglas A. Becker, MD, of Minneapolis Orthopaedics, helps his patients heal and get back in the game. He focuses on using the least invasive procedures possible to treat musculoskeletal problems.